The Felting Source is delighted to announce its inaugural Pacific Northwest felting workshop! What could be more fun than spending four awesome days with two instructors, four classes and 40 other felters? Register for a Saturday/Sunday class AND a Monday/Tuesday class to get the most out of your experience at The Felting Affaire! Early Bird Registration ends Monday, July 23rd at midnight!

Sign up here for notices on the 2018 Oct 20-23 Felting Affaire @PDX
October 20-23, 2018 Portland, Oregon
Click HERE for complete conference details, including airport shuttle information and lodging
2018 Instructors & Classes
In this inaugural event, we will feature two noted instructors, listed here.
Marjolaine Arsenault and Emilia Ponomarev.
Below this schedule grid are the Instructor bios, class descriptions, and materials list. (Note: Any "materials fees" are due directly to the instructor on the first day of class. Thank you!)
Click on links inside the grid to jump to instructors' bios or class descriptions on this page.
To be added to a class 'wait list' contact us with that request. Thanks!
To claim a spot on the Waiting List, please
email
Deb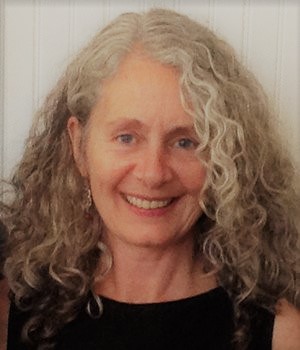 Marjolaine is a fiber artist creating garments and accessories in a felt making process fusing hand-dyed silk and wool fiber to make seamless garments. Composition, color harmony and texture are integral to every one-of-a-kind creation.
Marjolaine seeks to drape the body with style and beauty in contemporary pieces of wearable art. She travels the country to sell at various juried fine craft shows and to teach workshops. She was awarded the Collector's Award at the Palm Beach Fine Craft Show in 2013 and the Outstanding Achievement Award at the Chicago Botanical Garden Craft Show in 2014. Her collection was presented in the Electric City Fashion Shows in 2016 and 2017.
Her garments were published in Worldwide Colors of Felt and in various magazines. She studied Fine Art at Concordia University, Montreal, Canada and after 20 years as a graphic designer and 10 years as a garden designer, she continues following her heart to recreate herself. She is a member of the Northeast Feltmakers Guild and her studio is located in North Creek, NY. Find Marjolaine on the web here.
2-Day Class
Oct 20-21, 2018 (Saturday, Sunday)
Sleeveless Top
[Prerequisite: Nuno felt experience required]
Level of Difficulty: Intermediate
Number of Students: 12
Materials Fee: none
Click here to see the Student Materials List for this class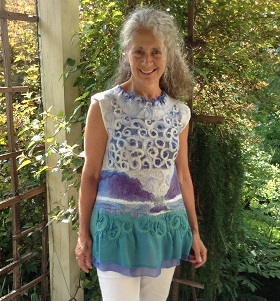 Join Marjolaine on a 2-day class to create a nuno felt sleeveless top. Her fascination for the limitless possibilities of making nuno felt seamless garments led her to playful creations. During this workshop you will explore colors, texture, composition and design. Please note that this class requires standing most of the day. Nuno felt experience required.
2-Day Class
Oct 22-23, 2018 (Monday, Tuesday)
4-Way Reversible Vest
[Prerequisite: Nuno felt experience required]
Level of Difficulty: Intermediate
Number of Students: 12
Materials Fee: none
Click here to see a materials supply list for this class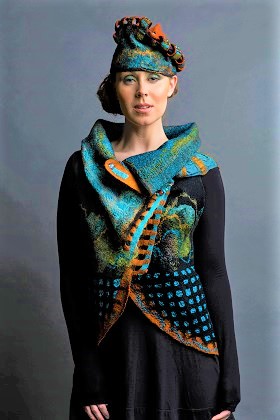 In this two-day workshop we will create a one-of-a-kind nuno felt vest that you will enjoy wearing in four different ways. Each side is different and turn it upside down and your longer vest now becomes a bolero. So much fun! Hand-made brooches close the vest. Please note that this class requires standing most of the day. Nuno felt experience required.
Emilia Ponomarev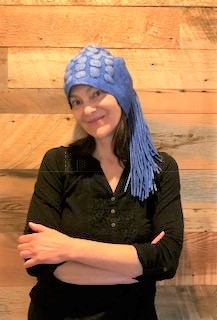 Emilia is a recent transplant from Russia to Colorado and the Rocky Mountain Felters are all so happy she is here. You will be too when you see the lovely felt she makes and the knowledge she shares!
She explores the how's and why's of felt and the movement of fiber to create wonderfully light felt with perfect edges and a beautiful drape. It is almost as if Emilia thinks like a fiber! She brings a background of many crafts to her world of felting and those fortunate enough to get into her classes will fully understand the breadth of her knowledge.
Her repertoire spans all types of felting and she says, "I cannot say which felt I like more, heavy or light, thin or thick, clothes or art objects, jewellery or bags, hats, scarves or gloves... I just enjoy to see my hands creating something new out of wool fiber."
Emilia has taught felting and surface design in Russia for beginners through advances students and offers classes at her studio in Broomfield, CO.
Her works have been shown in several prestigious exhibitions:
"Baikal Warmth" - All Russia 2015 Exhibition
"Soul of Felt" - a year-long Russian-German Exhibition that was showcased in Germany Italy, Netherlands, and Ireland
Taos, NM Wool Festival, where her hooded vest received the Grand Champion Award
2-Day Class
Oct 20-21, 2018 (Saturday and Sunday)
Felted Accessories
Level of expertise: All Levels
Number of Students: 15
Materials Fee: None
Click here for Student Materials List for this class.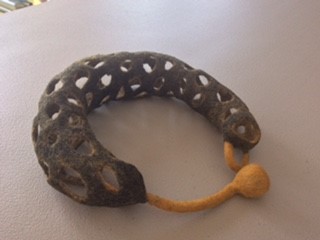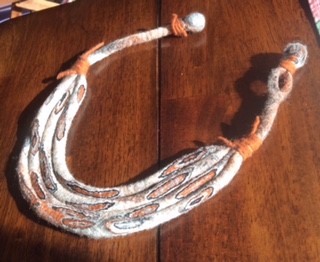 So many felting techniques can be combined with one another to yield striking results. Come learn some of these techniques then combine them to create your own uniquely styled necklace, bracelet, or other fashionable accessories (yes we will make multiple projects).
The instructor will demonstrate techniques and show examples of her work that incorporate some of the techniques she has devised and combined. Learn a simple way to make a cord, shibori, felt carving, felt netting, dimensional hollow felt…and more.
Your felt will be strong and stable under Emilia's guidance. There will be options to add buttons or other embellishments to make your perfect pieces totally unique.
This is an intensive class, yet the techniques Emilia shares will be useful in a variety of your felting projects.
2 Days
Oct 22-23 (Monday and Tuesday)
Speaking of Surface Design: A Fine Tunic
Level of expertise: All Levels
Number of Students: 12
Materials Fee: None
Click here for Student Materials List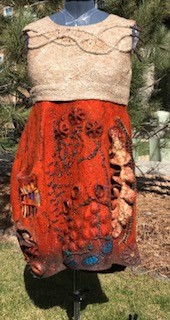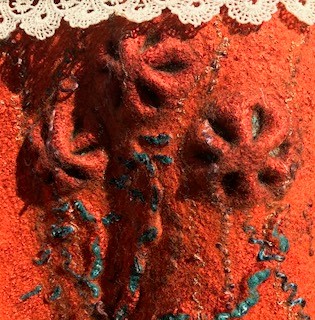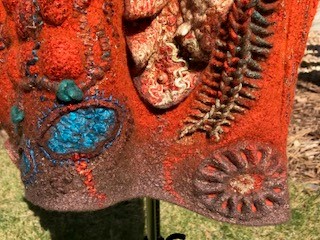 During this two-day class students will learn how to do an even and fine layout, how to make straight, even edges, and how to create felt that drapes beautifully. Make only two measurements to create perfect resist/pattern for this tunic. Make the same pattern longer or shorter and you will have a dress or top. Students will learn how to prepare different resist shapes to make different effects.
We will learn surface design elements that can be used in many other projects, including art objects. Students will incorporate 2-3 of these surface design techniques to create a truly unique one-of-a-kind tunic designed by and especially for themselves. NOTE: the image above is a "sampler" tunic that shows multiple surface design possibilities.
The techniques we are going to cover include making several types of: flowers, craters, braids, and lace. In addition the instructor will cover methods for creating "fossilized seashells," rushes, cords, shibori, " "smoking" stitches, "mud cracks," pebbles and bumps, as well as using prefelt, plant fibers, and fabric.
No question will be left unanswered!
Event Schedule
NOTE: All classes are held at the host hotel and run 9am to 4pm with a lunch break
Friday October 19

Arrive late afternoon for evening reception and dinner
Saturday October 20
First set of 2-day classes begin
Evening - Show & Tell, 8pm
Sunday October 21
First set of 2-day classes concludes
Evening - Free Time to explore the area
Monday October 22
Second set of 2-day classes begin
Evening - Fashion Show, 8pm
Tuesday October 23
Second set of 2-day classes concludes
Students may depart or stay over to depart Wednesday after breakfast
Wednesday October 24

Breakfast and depart
Contact Us
---
Show & Tell
Do you have a newly discovered technique you'd like to share, a favorite felted object you want to show off, or something you are especially proud of having made? If so, bring along something from home you've made for our Saturday night, 8pm Show & Tell. It might remind you of playgroup, but with a felter's twist!
Fiber Marketplace
A few of our favorite vendors will join us for the Fiber Marketplace on Friday evening through Tuesday noon. You'll have the opportunity to buy embellishments for your workshop projects or fiber and other necessities that you can't always find when you need just the perfect embellishment or color for a project.
Fashion Show
To be in the fashion show, bring your favorite felted garment that you have made then model it for other participants in this fun, upbeat fashion show on Monday night, starting at 8pm.
Location
The Pacific Northwest is the perfect place to host a felting event. The Felting Source is proud to offer this first-ever 4-day workshop in Portland, OR. Often known by its airport tag (PDX), we included in the title to acknowledge, not only the location, but the uniqueness of this city. Enjoy your time here at The Felting Affaire @PDX!
Transportation
There is easy direct airport-to-downtown public transportation; drive-time is about 30 minutes. You'll find information here on transportation options for getting to and from the airport.
Lodging
We have booked a block of hotel rooms at University Place Hotel and Conference Center in downtown Portland (310 SW Lincoln St, Portland, OR 97201). Our special group rate is $89/night, single or double occupancy. To reserve a hotel room at this rate, call the University Place Hotel directly at (503) 221-0140 and let the front desk know you are with The Felting Source group to get the special group rate. If you would like to stay prior to or after the event, the University Place Hotel and Conference Center will honor our group rates three days prior and three days after The Felting Affaire.
If you prefer double occupancy but do not know anyone who is attending, contact The Felting Source to put your name on the "Looking for a Roommate" list and to get the names of others who are on the list.
Meals
A full breakfast is included with lodging. All other meals will be on our own. There are a number of restaurants in the area that offer a wide variety of options and our hotel is just a short walk from Portland's legendary food cart scene.
---
Registration, Fees, & Cancellation Policies
Registration will be taken on a first-come, first-served basis. We offer early bird rates before July 23, 2018. Register early; class sizes are limited! The Felting Source accepts checks, credit cards, and PayPal transfers to [email protected].
At least 30% of the total registration fee is due as a deposit with your online registration.deposit We cannot guarantee registration without receipt of online registration and the deposit, unless you call Deb Tewell, conference organizer and speak with her directly. NOTE: We will not accept a voice mail as a way to hold a class spot. If you must cancel, your registration may be transferred to another individual.
The balance of all fees is due before September 28, 2018. If we have not received the balance due by this date, your reservation may be transferred to someone on the wait-list and your deposit will not be refunded. Please mark your calendars!
Registrations made after September 28, 2018 must include payment in full. Because we must send deposits to our suppliers well in advance of the workshop, we cannot offer refunds beyond those described below. We appreciate your understanding!
Cancellation refunds are made according to the following schedule:
All cancellations must be made in writing (email to

[email protected]

) or received by mail before September 28, 2018 to: The Felting Affaire @PDX, c/o The Felting Source, 1024-D Wind Trail, Fort Collins, CO 80526.
For cancellations received before September 28, 2018 the balance, less a 25% deposit, will be refunded if we are able to fill your space from our wait-list or you are able to find a replacement.
For cancellations received after September 29, 2018, no refund is possible unless we can fill your space from our wait-list.
NOTE: In the case of inclement weather, workshops will be held as long as instructors are able to make it to the event venue.