The Felting Source is delighted to announce our sixth annual felting workshop in the Rocky Mountains of Colorado! What could be more fun than spending four awesome days with five instructors, nine classes and 60 other felters?! Registration coming soon!
Sign up here to get periodic updates on The Felter's Rendezvous 2018.
March 3 - 6, 2018 Estes Park, Colorado
2018 Instructors & Classes
In 2018 we will feature five noted instructors, listed here. Maggy Pavlou will offer a single 4-day class and the other instructors will each offer two 2-day felting courses. This schedule will offer you the opportunity to either take one 4-day intensive class or two different 2-day classes during our four days together.
Below this schedule grid are the Instructor bios, class descriptions, and materials list. The materials with * will be available for sale at the Rendezvous Marketplace; the # materials will be available to borrow at no charge (first come/first served) from the Felting Source during the Rendezvous.
Instructor
# of days
Workshop Title
Dates
Maggy Pavlou
4 days
Creating the WOW Factor: Vest or Jacket
March 3-6
Beverly Ash Gilbert
2 days
Dive Into Color With Nuno Felt
March 3-4
Beverly Ash Gilbert
2 days
Garden Jacket in Nuno Felt
March 5-6
Emilia Ponomarev
2 days
Two for One: Reversible, Seamless Vest (with Pockets)
March 3-4
Emilia

Ponomarev
2 days
Felted Accessories: All Types of Fun
March 5-6
Annemie Koenen
2 days
Surface Structures in Nuno, 3-D Relief, and Layers
March 3-4
Annemie

Koenen
2 days
Repeat or expansion of the Surface Structures class (see above)
March 5-6
Chad Alice Hagen
2 days
Resist Dyeing on and Bookbinding with Hand-Felted Wool
March 3-4
Chad Alice Hagen
2 days
Two Fabulous Resist-Dyed and Shaped Felt Scarves
March 5-6
Maggy Pavlou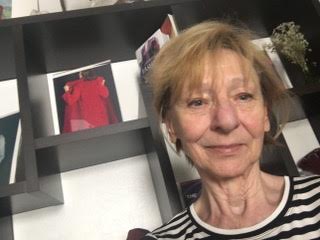 Maggy fascination with fibers has roots in her early years growing up in Austria, inspired by a teacher whose influence stayed with her all her life.
However her felting career did not start until 2006, after receiving a bag of hand dyed roving from a friend. Felting was still a vague concept to her but she was intrigued by the process and curious about the fusion of various fibers. That same year she attended a design seminar organized by the Santa Fe Weaving Gallery.
While wearing her own first felted garment, she received an invitation to showcase her work at this well-known gallery. She was honored but had no inventory to show. Not wanting to forgo this opportunity, and with two month put together inventory, Maggy created a well-received collection.
This opportunity became the beginning of her felting career, which grew steadily over the years, evolving from traditional felting techniques to explorations of new ways to fuse various fibers. When felting machines came on the market, it let eventually to exploring needle felting. This technique of felting allowed her create modern artisan cloth, suitable for youthful contemporary clothing.
Maggy's biggest motivation is the continued challenge to find newness in the age-old craft of fusing fibers. Over the years, Maggy has received several prestigious awards, including the 2009 Best of Show award by Fiberarts Magazine, for her Cactus Series, and at Art Wear Fashion Week at Lincoln Art Center in Fort Collins, CO the Jury Award for her Bark Series (2011), and Best of Show for her Cloud Coat (2015).
You may also recognize Maggy's work from the 2009 cover of Fiberarts Magazine and the related article, "Reversible Felt USA," or from the 2011 Lark Craft Publication, 500 Felt Objects.
4-Day Class
March 3-6, 2018 (Saturday, Sunday, Monday, Tuesday)
Creating the WOW Factor: Vest or Jacket
[Prerequisite: Students must be experienced in using a sewing machine.]
Level of Difficulty: All levels of experience
Number of Students: 12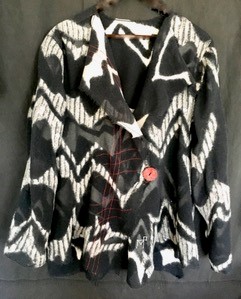 Students in this 4-day class will be making a garment using a needle felting machine to create a modern artisan cloth that they will cut and piece to create a 'WOW ' vest or jacket.
We will begin by designing and making the felted cloth, then piecing and cutting this cloth into a finished garment and fusing the pieces with the needle-felting machine. No experience with a felting machine is necessary but students should have constructed a large felted garment before. By making 3 to 4 swatches of different sample fabrics, students will explore individual style and color combinations to determine their favorite for the large garment.
After the design has been finalized and the cloth produced, students will press the cloth, cut shape and piece together by hand sewing or needle felting, depending on our individual designs. Finishing details are important and with the goal that everyone will take home a finished garment, the students will also learn about closures and finishing details. Maggy will focus on raw edges and lightweight, flowing drape, both of which are hallmarks of her work. Students will also explore openings and stitched ridges in finishing their garments with individuality and creativity.
Beverly Ash Gilbert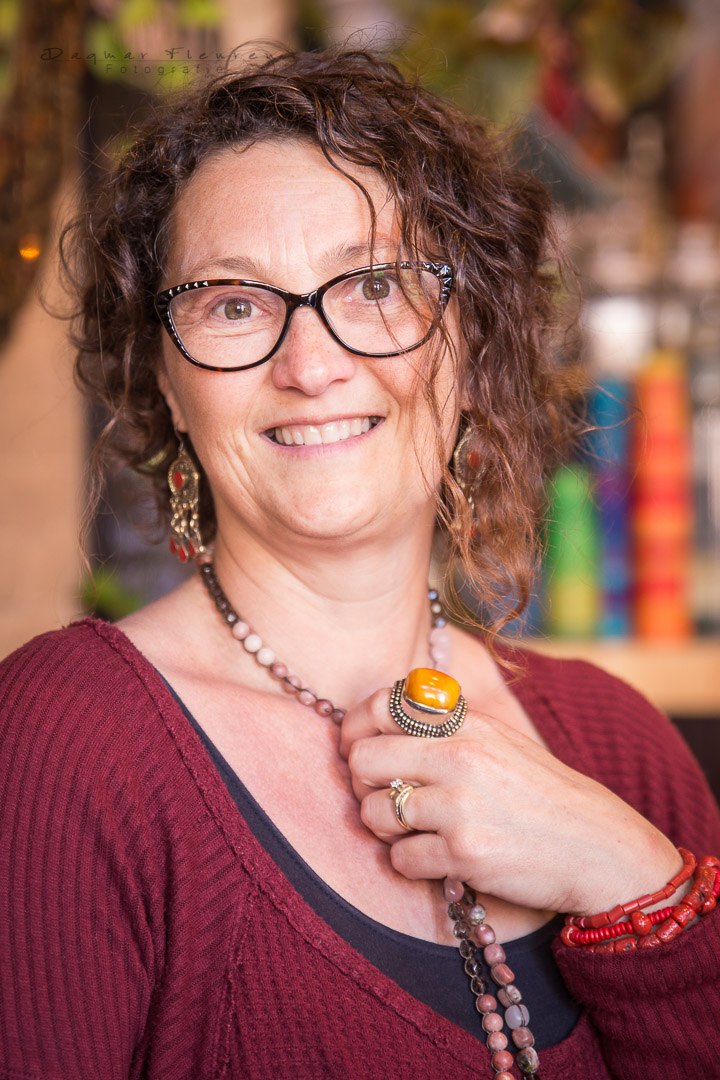 Beverly Ash Gilbert is a multimedia artist, author, teacher and consultant whose work dances with unexpected shades of color. Her artwork has been featured in numerous publications and juried shows; as cover art for the poetry collection: The Body A Tree; on tennis wear worn by Lleyton Hewitt in the 2015 US Open; and for advertising, signage, websites, and blogs including Martha Stewart Living, Full Circle Farm and LizzyKate Tea. She has been interviewed on KKNW ArtBeat NW and was an invited speaker for the Bellevue Arts Museum Guilds in both 2016 and 2017.
Beverly teaches adult fiber art and photography workshops at the Kirkland Arts Center in Washington, as well as drawing, painting and photography for young children as Artist in Residence in area elementary schools. Students from all around the US, Canada and other parts of the world come to her Creative Retreats on Whidbey Island, Washington for an immersion of color, freeform expression and gourmet food.
She is the author of 4 books and eBooks including the innovative Eye For Color: Interchangeable Templates and Color Wheel System. Her 5th book: Artful Color in Nuno Felt will be available winter 2017. Click here to view Beverly's website.
In the classes Beverly is offering at the Felter's Rendezvous you will be immersed in color that Beverly will help you transfer to all your felting projects, making each of them more special.
2-Day Class
March 3-4, 2018 (Saturday and Sunday)
Dive Into Color with Nuno Felt
Experience Level: All Abilities
Number of Students: 12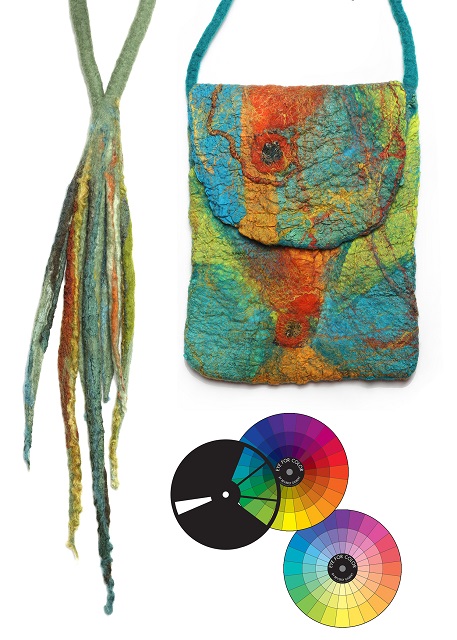 Create luscious color palettes with depth and interest – then use your favorite combinations in two fun nuno felt projects – a Dreadlock Necklace on Day 1 and a Crossover Purse on Day 2! In Dive Into Color you will enhance the colorways you already know and love, move confidently into new color palettes, and train your eye to know when a color palette works and how to fix color palettes that don't work.
We will begin with a hands-on approach to basic color theory and in a short time master value, saturation, undertone and transition colors. You will develop color confidence working with, and manipulating, traditional color harmonies using Eye For Color color wheel system. With this knowledge you will:
Create numerous color palettes using a special Dive Into Color Workshop Palette created by Outback Fiber exclusively for this workshop. Your new palettes can then be labeled so you can work with them again and again in future projects.
Apply one of your favorite color combinations in the Day 1 project
Learn how to create pure felt and nuno felt dreadlocks and merge them into a funky 'Dread Neck' necklace.
The color exercises from Day 1 will come together in a reversible Nuno Felt Crossover Purse sized to fit your ipad, iphone, wallet and other essentials. This colorful purse features an integral dreadlock strap, top flap and a luscious combo of wool and silk. You will:
Learn how to create an integral dreadlock strap (no sewing!)
Using a resist, create a reversible nuno felt purse in one of the luscious colorways you created on Day 1
Click here for Student Materials List
2-Day Class
March 5-6, 2018 (Monday and Tuesday)
Garden Jacket in Nuno Felt
Experience Level: ?
Number of Students: 12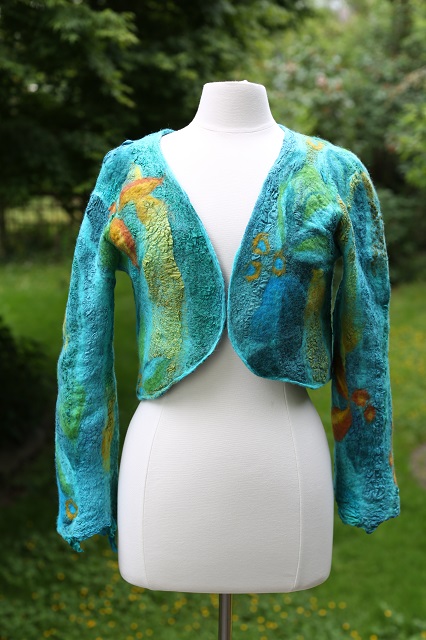 Once the basic pattern is created there are lots of possible variations: the front can have a straight box cut or a curved more whimsical look, love asymmetry? No problem! Arms can be long, short, straight or flared. Adjust the weight – use more wool for more warmth, less wool and more silk for a light weight summer evening shrug.
Discussions of color will be woven in throughout the 2 day workshop.
Bonus! Can be made on a single table for those with limited working space in their home studio – and of course it is all made in a single piece with no stitching.
Emilia Ponomarev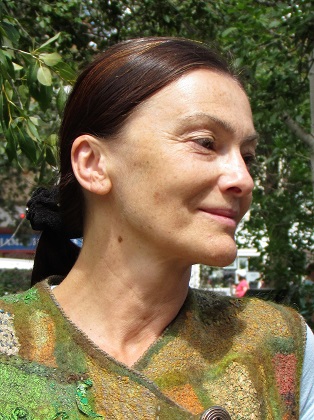 Emilia is a recent transplant from Russia and the Colorado Felters are all so happy she is here. You will be too when you see the lovely felt she makes and the knowledge she shares!
She explores the how's and why's of felt and the movement of fiber to create wonderfully light felt with perfect edges and a beautiful drape. It is almost as if Emilia thinks like a fiber! She brings a background of many crafts to her world of felting and those fortunate enough to get into her classes will fully understand the breadth of her knowledge.
Her repertoire spans all types of feltinig and she says, "I cannot say which felt I like more, heavy or light, thin or thick, clothes or art objects, jewelry or bags, hats, scarves or gloves... I just enjoy to see my hands creating something new out of wool fiber."
Emilia has taught felting and surface design in Russia for beginners through advances students and offers classes at her studio in Broomfield, CO.
Her works have been shown in several prestigious exhibitions:
"Baikal Warmth" - All Russia 2015 Exhibition
"Soul of Felt" - a year-long Russian-German Exhibition that was showcased in Germany Italy, Netherlands, and Ireland
Taos, NM Wool Festival, where her hooded vest received the Grand Champion Award
2-Day Class
March 3-4, 2018 (Saturday and Sunday)
Two For One: A Reversible Seamless Vest (with pockets, no less!)
Level of expertise: Advanced felters who have had experience felting a seamless garment
Materials Fee: None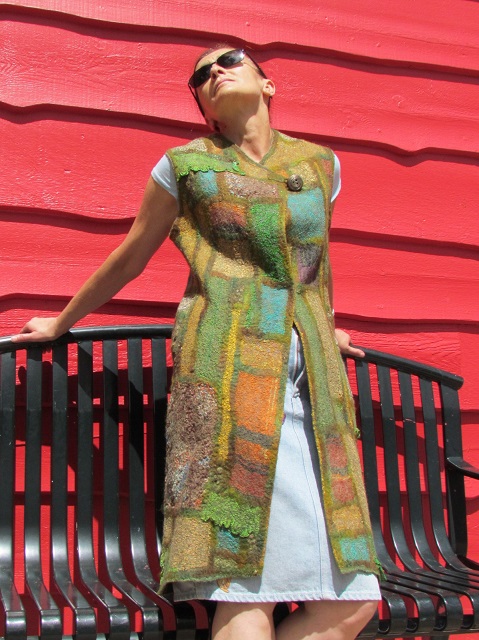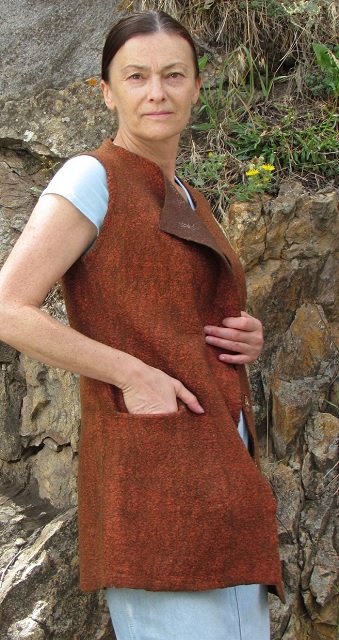 Get two vests for the price of one when you create a reversible vest that can have two very different looks on each side!
In this two-day class, students will learn how to design a basic pattern, individually sized, and adjusted for shrinkage during the felting process. This "universal pattern" and process for figuring shrinkage can be adapted to most any of your felting projects.
Proper layering is essential in making this reversible vest. Students will learn to create perfect edges and even felt that has a lovely drape. The seamless pockets will be accessible from both sides of the vest.
Vests will be created with fine merino and lots of yummy silks, then embellished to make each a unique and wonderful piece that you will be proud to wear—on either side.
This is an intensive class, yet the techniques Emilia shares will be useful in a variety of your felting projects.
Click here for Student Materials List for this class.
Annemie Koenen

Annemie Koenen's felting work is inspired by nature and distant cultures, something you can see evidenced in thelovely felting techniques she employs. She is from the Netherlands, yet her work reflects a variety of ancient felting cultures, especially her embroidered pieces.

Her artistry finds its form from dormant ideas that awake at a certain moment or that come her way by happenstance. When she is making felt, she likes to be led by the circumstances instead of having a firm idea of her end product, this makes for both a limitation and a challenge, a challenge that she obviously loves and is up for! Annemie's passion is free embroidery on felt, which, also, is mainly intuitive.
She teaches internationally and has taught felting in the Netherlands, US, UK, Germany, Belgium, Austria, Spain, Armenia, and Kyrgystan. Her work has been shown in European museums and published in Feltmatters, FUN, Viltkontakt, and Handwerken zonder grenzen. In 2016 the municipality of Sittard-Geleen, in the Netherlands purchased her work, Connection Gives Fruit, as public art. Further, Annemie has written a book about felting, Near and far, that has been published in Dutch, German, and English.
Her kind nature and gentle teaching/leading techniques make her a most welcome addition to our 2018 Felter's Rendezvous.
2-Day Class
March 3-4, 2018 (Saturday and Sunday)
Surface Structures in

Nuno

, 3-D Relief, and Layers

Experience Level: ?

Number of Students: 12
In this class, students will be able to work with many kinds of materials, using different techniques, and making a variety of completed projects under Annemie's direction.
The finished projects can be a collar, a bag, a wall hanging, a bracelet, a hat, slippers, a bowl or whatever students decide to make. In addition, projects can be decorated as desired with embroidery and/or braiding and weaving techniques from Central Asia that will also be taught in the class. The size and complexity of each project will depend on each student's own experience and pace.
The instructor will share her profound knowledge of felting while allowing the students to take her transfer of knowledge into any direction. You can count on your creativity being encouraged and stimulated.
Students will have instructor input on design and color choice, if they want it, but count on learning, through examples and samples, what the myriad possibilities are, how to figure shrinkage rate based on your own "hand" of felting, and Annemie's special instruction related to layers upon layers of lovely felt.
Chad Hagen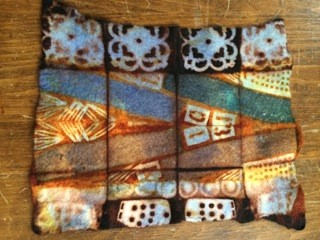 Workshop Schedule
Friday March 2

Arrive late afternoon for evening reception and dinner
Saturday March 3

4-day class begins
First set of 2-day classes begin
Evening - Show & Tell
Sunday March 4

4-day class continues
First set of 2-day classes concludes
Evening - Free Time to explore the area
Monday March 5

4-day class continues
Second set of 2-day classes begin
Evening - Fashion Show!
Tuesday March 6

4-day class concludes
Second set of 2-day classes concludes
Students may depart or stay over to depart Wednesday after breakfast
Wednesday March 7

Breakfast and depart
Contact Us
---
Show & Tell
Do you have a newly discovered technique you'd like to share, a favorite felted object you want to show off, or something you are especially proud of having made? If so, bring it along for our Saturday night Show & Tell. It might remind you of playgroup, but with a felter's twist!
Fiber Marketplace
A few of our favorite vendors will join us for the Fiber Marketplace on Sunday evening through Tuesday noon. You'll have the opportunity to buy embellishments for your workshop projects or fiber and other necessities that you can't always find when you need just the perfect touch for a project. Vendors may not be attending the entire time; we will post a schedule in the Marketplace.
Fashion Show
Bring your favorite felted creation to model for other participants in a fun, upbeat fashion show on Monday night.
Location
YMCA of the Rockies Center is nestled against Rocky Mountain National Park in the town of Estes Park, Colorado. Spring is the perfect season to see abundant wildlife right outside our lodge rooms. Cool mountain breezes and dazzling sunshine create the perfect environment for refreshing our spirits, enjoying the natural beauty of the Rockies, and making fabulous felt. There will be ample time to walk the campus and enjoy "Springtime in the Rockies!"
Lodging & Meals
Double occupancy lodging and facility use fee are included in regular registration costs. There is a surcharge fee for single-occupancy lodging. For participants who want to drive in each day or otherwise stay off campus there is a day use package that only includes a facility use fee. Meals are charged separately during registration, and will be served at times that mesh with our daily schedule of classes, 9 am - 4 pm.
---
Registration, Fees, & Cancellation Policies
Registration will be taken on a first-come, first-served basis. We offer early bird rates before January 30, 2018. Register early; class sizes are limited. The Felting Source accepts checks, credit cards, and PayPal transfers to [email protected].
At least 30% of the total registration fee is due as a deposit with your online registration. We cannot guarantee registration without receipt of online registration and the deposit. If you must cancel, your registration may be transferred to another individual.
The balance of all fees is due before February 12, 2018. If we have not received the balance due by this date, your reservation may be transferred to someone on the wait-list and your deposit will not be refunded. Please mark your calendars!
Registrations made after February 12, 2018 must include payment in full. Because we must send deposits to our suppliers well in advance of the workshop, we cannot offer refunds beyond those described below. We appreciate your understanding!
Cancellation refunds are made according to the following schedule:
All cancellations must be made in writing (email to

[email protected]

) or received by mail before February 2, 2018 to Felter's Rendezvous, The Felting Source, 1024-D Wind Trail, Fort Collins, CO 80526.
For cancellations received before February 2, 2018, the balance, less a 25% deposit, will be refunded if we are able to fill your space from our wait-list or you are able to find a replacement.
For cancellations received after February 2, 2018, no refund is possible unless we can fill your space from our wait-list.
In the case of inclement weather, workshops will be held as long as instructors are able to make it to the event venue.